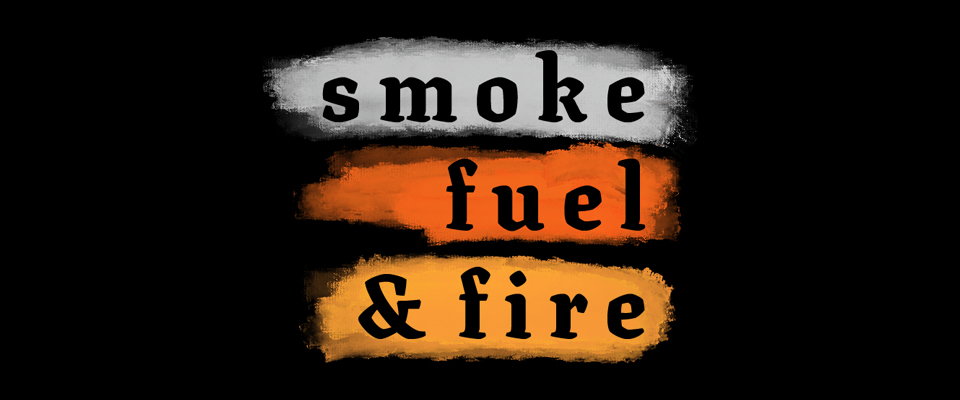 Smoke, Fuel, & Fire
A downloadable tabletop game
THE GAME
Smoke, Fuel, & Fire is a game you play with friends to create unique and exciting characters living in a community of diverse factions. It is a game built using the Beak, Feather, & Bone engine created by Tyler Crumrine, but with new and unique twists.

Madeleine Ember has created a beautiful series of character portraits that provide a jumping off point for the people that exist in your group's community. They're evocative, diverse, and lovely.
Playing SF&F involves a game of turn based prompts, a standard deck of cards with the jokers left in, and two pages of beautifully crafted portraits.
You'll begin by creating factions and drawing a hand of cards. One person can play a card to claim a character, describing the ways they belong to the player's faction with three sentences: smoke (how they're recognized), fuel (what they do), and fire (why they do it). After this, other players can bid cards from their own hand to tie their own factions to that same character.
At the end of the game, you'll have a host of characters being pulled in all directions from the most important factions in the community.
SF&F also includes rules for creating these factions yourself, and these rules are universal and adaptable enough that you can take them to other games you play, including into Beak, Feather, & Bone. With a playthrough of both games—in either order—you could fill out the map of a community and the people that exist within it.
The game also includes a host of supplemental rules, letting you adapt your playstyle to whatever works best, including:
Solo play.
Creating player characters for an RPG campaign and connecting them to the characters you've made.
Random faction generation.
Using different portraits, including ones you can't color in.
SUPPLEMENTARY MATERIAL
You can quickly generate factions online! I've put the generation tables on perchance.org, making them easily accessible for use with SF&F and other games. You can find them here. As time goes on, more and more options will be added to the online version of the generators, further expanding the possibilities.
If you're looking to try different portraits, I've outlined some suggestions below. The following art was not made for SF&F, and the artists are not affiliated with the game. These are pieces I like and I highly encourage you to check them out:
Evyln Moreau's patreon page has a wealth of art, almost all of it in an enchanting black and white style that can easily be adapted to Smoke, Fuel, & Fire.
If you'd like to set your community in a bit of a weirder, grungier setting, Thomas Novosel has two stunning portrait packs: 66 Grungy RPG Character Portraits and 60 More Grunge Character Portraits.
You might be creating a community in a science-fiction setting, and for that you will find Ashen Victor's Sci-Fi Character Portraits Project to be immensely helpful and perfectly suited to color in.
COMMUNITY COPIES
I believe that everyone who wants to play SF&F should be able to do so. If there's any reason you can't afford the game at this time, please take one of the community copies provided. If you do, you can support the game by rating it here, telling others about it, or just playing it with your game group. Each time someone purchases the game, I'll add another copy to the pool.
If you've played Smoke, Fuel, & Fire, I'd love to hear from you! You can reach out in the comments, or find me on Twitter: @eldritchmouse. I hope you enjoy the game and create many fascinating characters and communities with it.
NEWSLETTER
If you'd like to hear more from me—about the games I'm making and playing, consider signing up to the mindstorm, my semi-regular newsletter!
Purchase
In order to download this tabletop game you must purchase it at or above the minimum price of $5 USD. You will get access to the following files:
smoke fuel fire (pages).pdf
2 MB
smoke fuel fire (spreads).pdf
2 MB
smoke-fuel-fire-portraits-pages.pdf
1 MB
smoke-fuel-fire-portraits-spreads.pdf
1 MB
smoke-fuel-fire-portraits-transparent.png
2 MB
smoke-fuel-fire-portraits-white-bg.jpg
2 MB
smoke-fuel-fire.txt
18 kB
Exclusive content
Support this tabletop game at or above a special price point to receive something exclusive.
Community Copy
If you can't afford Smoke, Fuel, & Fire at this time but still want to play the game, please grab a community copy at no charge. If you enjoy the game, please consider rating it or telling others about it!